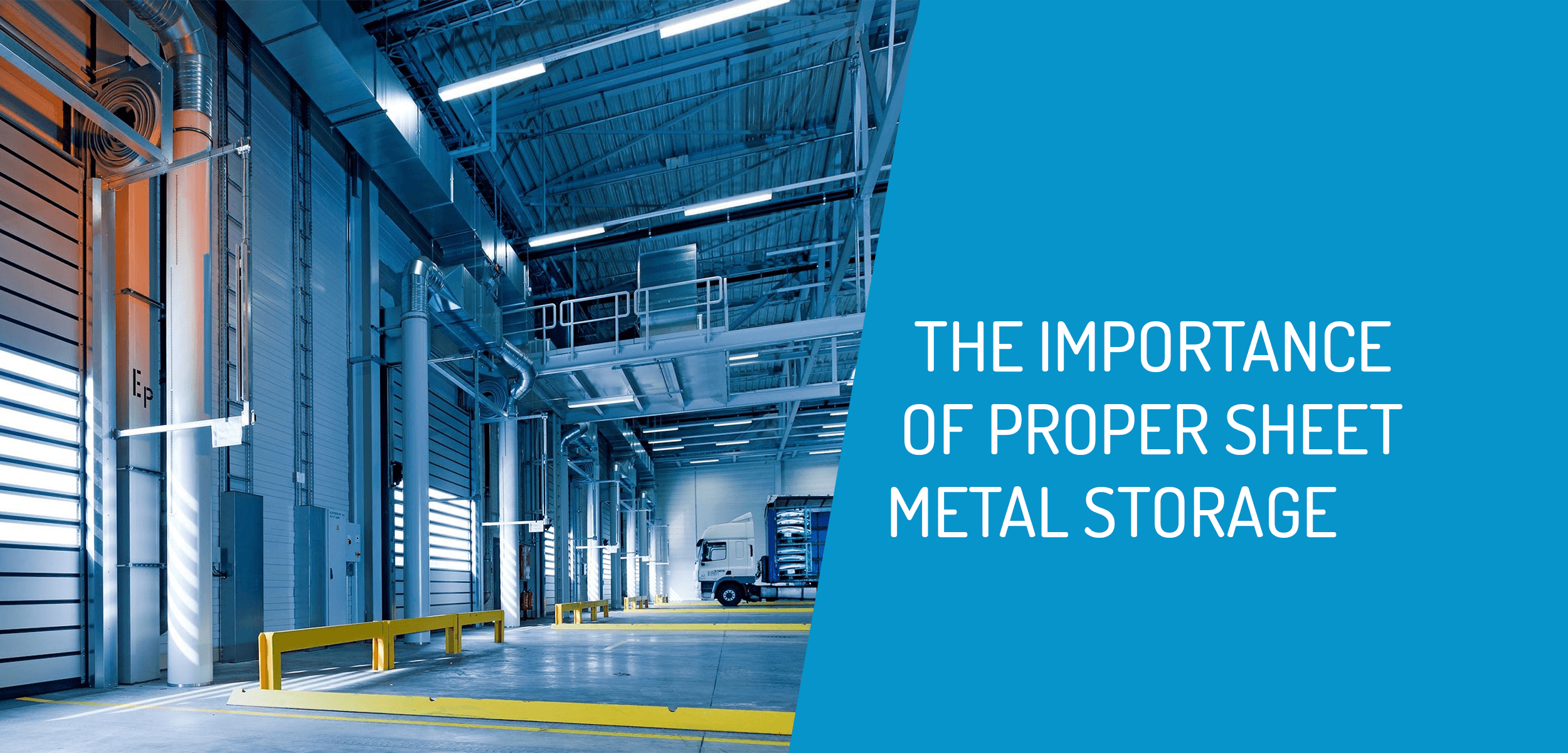 Posted on August 8, 2019 by hsadmin, in News
Who knew storage was so important? If you aren't careful about the way you store your sheet metal goods, you're letting yourself in for a whole lot of problems.
Get familiar with the importance of proper sheet metal storage in our infographic below!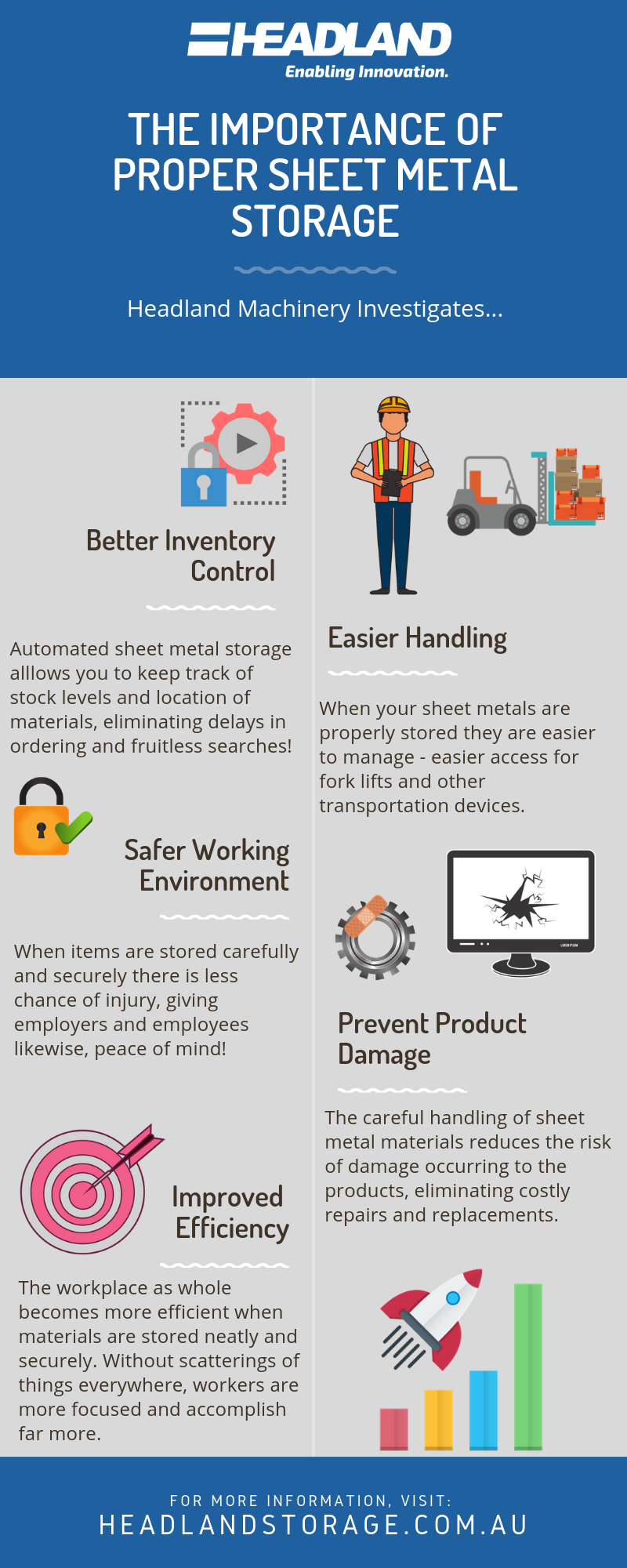 It's essential to take care when storing sheet metal, in order not to incur additional expenses, increase workplace efficiency, and avoid damages.
Luckily, Headland have a wide range of storage options available to store your sheet metal products safely whilst taking up minimal space in your workplace.
Explore Headland's Sheet Metal Storage Range
The Hänel Rotomat Industrial Storage system is a flexible and adaptable warehouse storage solution that slashes work time and administration costs.
This carousel storage solution uses height to free up warehouse space – offering up to 60% more work space thanks to its compact design. Running on a Ferris wheel principle, the Rotomat brings the part or tool directly to retrieval level in just a matter of seconds. The Rotomat has several access points across various floors or levels in the warehouse, so it eliminates the amount of accidents in the workplace as there is no need for bending, lifting or ladder climbing.
The Hänel Rotomat Industrial Storage system saves time, using a microprocessor control system for the user to request relevant folders. With its neat storage layout, the vertical storage solution provides workplaces with a greater level of storage organisation and efficiency, as stock taking and re-ordering is made quick and easy.
The Hänel Rotomat is supplied with twin motors, which ensures less wear and quieter running.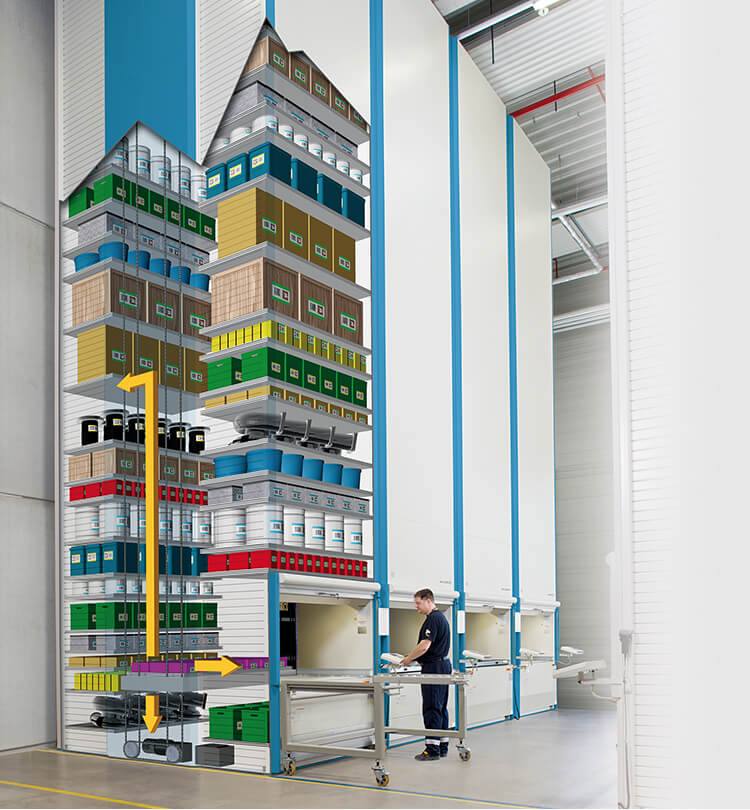 Hanel Lean Lift
The Hänel Lean-Lift consists of storage shelves located at both the back and front of the machine, where items and parts are stored in containers using height optimised positions.
The storage locations are accessed electronically meaning items, parts or tools are delivered to the the retrieval area at ergonomic height for the user. The user-friendly system is fully adjustable to operational requirements.
Every shelf position can be automatically modified and dynamically altered to suit stored item height, providing extremely high storage density.
Equipped with a fully integrated controller system, the warehouse inventory management system also comes with additional comprehensive Warehouse Management Software options.
The Hänel Lean-Lift can be used across a wide variety of industries; medical technology, electrical engineering (with ESD versions available), automotive, aircraft, mechanical engineering, mail-order, pharmaceutical and wholesale trades.
Stay up-to-date on the latest Hanel news, videos and articles by subscribing to our monthly newsletter here.
(Visited 1 times, 1 visits today)