A vertical carousel storage system with maximum ergonomics, optimum space usage and efficient cost reductions
The Hänel Rotomat Office is a vertical carousel storage system that brings quality, cutting-edge technology to workplaces and offices secure document storage. Thanks to its compact design, the Rotomat provides a vast storage volume of a small footprint. Costly office or industrial space is used efficiently, making the most of available room height and creating up to 60% more filing capacity.
The vertical carousel storage system is user-friendly, working on a Ferris wheel principle, e.g the archives come to the operator, not the operator to the archives. This ensures optimum workplace safety; there is no more bending, ladder climbing or walking long distances to reach and search for documents.
The Hänel Eco-Mode ensures that energy consumption is reduced to a minimum, by allowing the user to switch to different standby modes.
Quality starts with consulting, and by combining your requirements alongside our wealth of experience, we develop a complete tailor-made solution to cater for your needs.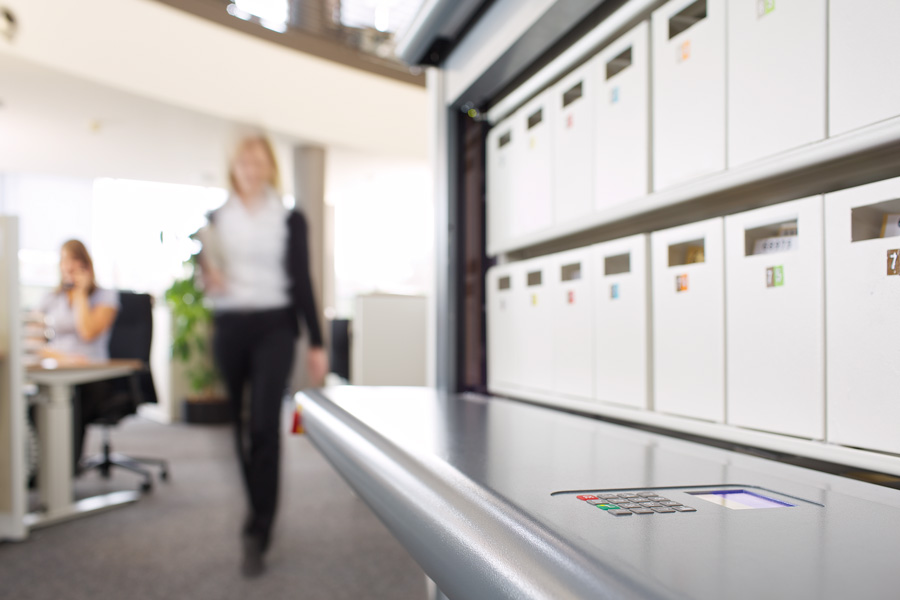 How will a Hänel Rotomat® Office vertical carousel storage system benefit my business?
60% more document storage capacity due to its compact design and use of available room height.
Flexibility and ease, with high-performance controllers and interface with IT systems. The option of multiple access points on different floors is also available.
Speed up processes, as the requested part or tool is brought automatically to the ergonomic retrieval height in just seconds.
Safer working environment; no ladder-climbing and no risk of accidents.
Stored items are protected from dust, light and unauthorised access.
Elegant design with five colours to choose from. Customised finishes are possible.
Key Features
Uses room height to free up floor space for more desks.
Lock and password protected for secure document storage.
Superior design requiring no scheduled maintenance, which is unique in the industry.
Fully integrated controller with built in

warehouse inventory management system

.
400-V three-phase motors. Pole-switching three-phase motors are used as standard, enabling gentle but powerful acceleration and braking.
Maximum safety ensured by using patented safety threshold switches and light-barrier curtains compliant with DIN EN 15095.